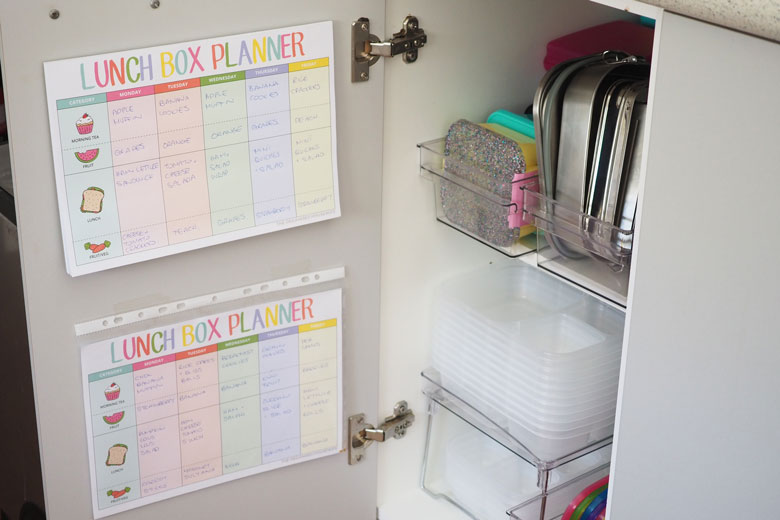 LUNCHBOX CUPBOARD ORGANISATION
A dedicated lunchbox cupboard will keep all your school lunch boxes and other lunch accessories organised together in the one place. 
I'm a firm believer in that old saying 'a place for everything, and everything in it's place.' Being organised and knowing that everything has a place helps my mindset and reduces my stress levels. Most elements of my house are organised from my pantry to the dirty laundry – yes, I organise dirty laundry! I created a lunchbox cupboard years ago when my kids were small as some items had been misplaced and I couldn't find a lunchbox lid needed that day!
This will make packing lunches easier as you will never have to hunt for misplaced items. At this time of year I strive to have these areas organised as the kids get back in the school rhythm. 
School Notes – One big tip for staying on top of school notes is to deal with them as soon as they are received. Sign permission notes and put back into school bags, and make any payments required straight away. This means you won't overlook anything. Keep the notes clipped to the fridge or in a file so you can easily access them when needed.
Homework – Keep all the homework supplies and home readers in once place that is easy to access. This way there is no hunting for pencils, or excuses like 'I can't find a ruler so I can't do my homework!' Find more tips here.
School bags – Get them off the floor and in the same place so there is no excuse the kids can't find their bag and other items. Find more tips here.
Laundry Schedule – I created a laundry schedule to ensure that they have a clean uniform each day and to save having Mt Washmore to battle with on weekends. Learn how to create a laundry schedule here.
LUNCH BOXES
To make preparing lunches a quick and easy process, create a lunchbox plan for the week and store all lunch supplies together in one cupboard. This will make everything easily and quickly found when you are preparing lunches.
How often do you buy storage containers and lunchboxes and end up with a big mess of plastic everywhere? Containers usually have lids, and if you don't put your containers away properly in the first place, you may find yourself dealing with missing or un-matching lids all over the place. That's why it's a great idea to have a lunchbox cupboard specifically for all your unused plastic containers and lunchboxes.
I find it is easiest to keep the cupboard organised by stacking the containers together and keep the lids separate in a container so they are easy to find and grab when needed.
I keep all the snack items for lunchboxes in the one container in my pantry so they are easily accessible when packing lunches and I can see when certain items are running low and need replenishing.
Be prepared for school and work with our range of Lunch Box Essentials.
With lunch boxes, lunch bags, drink bottles and more.
The lunch boxes you can see in the photo below are my absolute favourite style of lunch boxes. I have used them for years for my kids. I love the divided sections, and that you can pack food items without a plastic wrap or rubbish of any kind and the food stays fresh! I now stock them in my shop in a pack of five and also in a snack size option!
Streamline your lunchbox packing by planning out a week of lunch ideas. This way you know what is needed before the weekly grocery shop, and you can ensure all necessary bits and pieces are on the shopping list! No more late night/early morning stress because you don't have quite enough snack items or fruit for lunchboxes.
I use my Lunch Box Planner Pad as a quick reference point when assembling lunches. This takes the stress out of lunch packing as I don't have to think of what to pack on the spot, and prevents the monotony of me packing the same things each day. Plus it's a great way to make life a lot easier for if someone else in the family is packing the lunchboxes one morning.
If you have lots of drink bottles, go through them, purge the ones that you no longer need or do not fit into your cupboard. If your drink bottles are constantly falling out of the cupboard, then this hack is for you. Use a magazine file like this file organiser on wheels to help keep the bottles tidy and upright.
SHOP THE LOOK: Drink Bottle Storage